Mag. Dr. phil. Alexander Schmölz, Bakk.
prefers his coffee best white and "gspritzt" or totally black. He is scientific assistant (post doc) at the department of media education in the Department of Education at the University of Vienna and managing director of Österreichischen Instituts für Berufsbildungsforschung (ÖIBF).

He does research and teaches in the field of digitalisation, digital competences and media didactics, among other things focusing on game based learning, creativity and inclusion.
E-Mail: alexander.schmoelz@univie.ac.at
Landline: +43-1-4277-46746
efax: +43-1-4277-846746

Sensengasse 3a
3rd floor/room 03.12
1090 Wien
Current projects: Europa in der Krise - Digitale Inklusion
Closed Projects: Intuitel, LD-Skills, Wise Humanising Creativity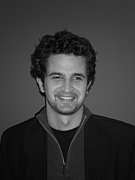 Publications
---
Showing entries 1 - 10 out of 77
2023
---
2022
---
2021
---